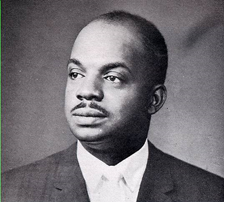 Former Chief Justice of The Church of God in Christ Judiciary Board
Bishop Nesbitt has been in Ministry in the Church Of God In Christ, Inc. for more than 66 years. He has been recognized as a Bishop since 1963. He meets the requirements for being a Bishop as set forth in I Tim. 3:2 and 6.
He graduated from College with degrees in Philosophy and History, finished the School of Religion, Howard University 59 years ago, (the first COGIC student to graduate from Howard's School of Religion), finished Law School 53 years ago, served as College Professor in Humanities and Fine Arts, served as one of seven Board Members for the 17th largest School District in the U.S. for 10 years, Executive Secretary of the Church Of God In Christ, Inc. during the Administration of the Second and last Senior Bishop of the COGIC, Chief Justice of the COGIC Judiciary Board, and multiple other training that qualify him to speak. It might please you to know that he was the First and only Judge of the First and only Ecclesiastical Court of the Church Of God In Christ, Inc., established in the 66th General Assembly (1973) for the purpose of adjudicating the West Angeles Church Of God In Christ, Inc. case where Elder Charles E. Blake, now our Presiding Bishop, was the pastor. That case received nationwide publicity, and Bishop Rimson, Chairman of the General Assembly, presented him by telling the General Assembly that he was appointing a man to handle the case that "knows our Laws and Doctrine and is qualified to judge the case".  After two days of hearing very interesting testimonies, the Lord led him to render a just decision, and the General Assembly gave him a STANDING OVATION.  excerpt taken from page 20 paragraph 2 of the Whole Truth by Bishop Nesbitt)

Read this letter from Bishop Nesbitt written September 7, 2013
Here is his latest letter dated August 11, 2013, written to the  Presiding Bishop, et al  concerning the continued pursuit of Bishop Holsey.
Click to read his response to the Constitutional Rights Expose', Now read his letter to Bishop Blake.  He has written another letter commenting on the Whole Truth

You can read or download the paper Constitutional Rights Expose in PDF.  This is the paper Bishop Nesbitt sent a response to.  
Here are the complete letters on PDF so you can download them.  Also here is a copy of a letter Bishop Nesbitt had written in defense of the last Senior Bishop; Bishop O. T. Jones Sr.
Bishop Nesbitt April 3, 2011 to Bishop Blake
Response to expose
Whole Truth
OT Jones Defense
Letter written on August 5, 2012 to Bishop Blake
Here is the  letter from Bishop Samuel Nesbitt; dated November 9, 2012
We have obtained a new letter written by Bishop Nesbitt, addresses to Bishop Blake, the General Board members, and members and friends of COGIC.  
READ THE LATEST LETTER FROM "THE STILL SMALL VOICE" NOVEMBER 3, 2013 
Disclaimer
**Bishop Samuel Nesbitt is in no way affiliated with, or responsible for this website**